Im sure you know by now how I LOVE brushes! I cannot do without brushes! Makeup brushes are SUPER important! Click HERE to read my entry on my MOST HIGHLY RECOMMENDED BRUSHES.
Ok so WHY do I love brushes? Simply because a good brush will better your application and your blending. Ask any MakeupArtist and they\'d agree. You cant do without brushes. BUT ofcourse you dont havw to be crazy like me and own over 70 brushes! I just LOVE brushes, ESPECIALLY crease brushes! So how do I store them or bring them out?
I came across this genious product several years back when I was wondering around ARTFRIEND. This is ACTUALLY MADE FOR PAINT BRUSHES! But hey, brushes are brushes! So I decided It would be FAB to place my mkeup brushes in them! and its SO COMPACT! So easy to use and carry around!
This is what it looks like. Probably not the best shot but its basically like a FOLDER with tiny pockets for brushes. I put between 1 to 3 brushes in each pocket, depending on the size of the brush!
This is how it looks, when Ive placed all my eye/lip brushes inside:
and so FUSS-FREE cuz you just need to attach the velcro at each side and its a STANDING brush case!
Close up of the pockets

You CAN squeeze your bigger brushes in but since I had way too many eye brushes, I just placed all my bigger fatter FACE brushes, in a separate bag

So there you go! Thats how I store and carry around my brushes!
You can get them at ARTFRIEND for under S$7 !!!
ART FRIEND IS AVAILABLE AT THE FOLLOWING PLACES:
Bras Basah Complex
Blk 231 Bain Street, #03-33, 
Singapore 180231
Tel: (65) 6336 8338
Fax: (65) 6337 0743
Takashimaya Shopping Centre :
391 Orchard Road,
#04-20M, Ngee Ann City,
Singapore 238872
Tel: (65) 6733 8482
Fax: (65) 6732 9180
Buona Vista MRT  :
100 North Buona Vista Rd,
#02-01, Buona Vista MRT,
Singapore 139345
Tel: (65) 6777 0353
Fax: (65) 6777 0378
Middle Road – NEWLY OPENED!
268 Middle Road,
Singapore 188992
Tel: (65) 6336 2332
Fax: (65) 6336 8797
LINK: www.artfriend.com.sg
I recently posted a similar "TOP TEN MUST HAVE" almost one year back! So this is the revised list of my current TOP TEN MUST-HAVE products! Some items are still the same because they're BRILLIANT in my opinion! and Ive added on some new products Ive recently started loving!
1. MAKEUP FOREVER ALLMAT PRIMER


WHY I LOVE IT: Ive raved about this countless number of times, and have posted a review HERE a well. The MakeupForever All Mat Primer is by far one of the most brilliant products Ive used! I love it for so many reasons! Firstly, it smells good. Most of my anxious bridal clients I use this on, are instantly calmed by the smell. The texture just melts into the skin, so you dont have that thick oily feeling of something lingering on your skin. This product helps to prevent your skin from being too oily. With this base, you barely need any touch ups through out the day. It helps your makeup stay put all day(and night!). And another favourite reason, is because it doesnt emphasize your fine lines/wrinkles! Other primers i apply at my under eye will emphasize my lines, but this product doesnt. Need any more persuasion to get it??
AVAILABLE AT (Singapore): Sephora Singapore
2.Makeup Forever PanStick Foundation


WHY I LOVE IT: I love this foundation because it never gets CAKEY! When you think of Stick foundation, you think of overly thick and cakey application but with this foundation, its almost impossible for that to happen. I love this foundation because its super creamy and you can just keep layering it on with a damp sponge and it wont get too thick for the face. Ive raved about it HERE

AVAILABLE AT (Singapore): MakeupForever's PRO Store at ONE RAFFLES PLACE
3. Amazing Cosmetics, Amazing Concealer


WHY I LOVE IT: I have panda eyes. No seriously.. my dark circles could scare off a zombie, for sure! Ive been trying MANY different concealers all these years to combat my dark circles and eventually I did manage to conceal them, after layering on 3-4 layers of certain concealers. thus resulting in a cakey under eye and emphasizing my fine lines further! But Amazing Cosmetics Concealer came to the rescue when Sephora Singapore borught it in. I was taken aback by the ridiculous pricing, at first. $42 for a small(and I do mean SMALL) tube and $63 for the larger tube. But then when I started using it, I realized it wa worth every penny(and more!) First of all, you only need the tiniest amount to work with. Unlike most concealers, amazing cosmetics concealer builds up as you apply it. So you truly only need a tiny dot for each eye. and it dries(not in a skin drying kinda way) instantly so you need to blend fast. I personally use TWO shades cuz at the moment I cant find a shade that is PERFECt for me. So I use "TAN" to totally conceal my dark circles and then I use "MEDIUM BEIGE" over it to lighten the area. and voila! no one can see my hideous dark circles! Click HERE for before and After Photos.
AVAILABLE AT(Singapore) : Sephora Singapore
4.Elizabeth Arden Pure Finish Mineral Powder Foundation


WHY I LOVE IT: Mineral makeup became a huge craze not too long ago but somehow it just never caught up with me. I didnt feel wow-ed by any mineral makeup. Probably cuz they all looked dull. Well ok, powder foundations are not exactly bright fresh bold colours but with a gadget like this, you KNOW you'd wanna own one too. I was presented with this product, by Elizabeth Arden, to see I liked it and I LOVED it. so much so that Im on my 3rd case now and ummm..I have 3 more instock on hand :p
Most makeup you apply on your skin, oxidizes because of the oil on your skin or in the product but I kid you not, this powder DOESNT. I apply it from the wee hours of the morning and by the end of the night, the only touch up I would need is from perspiration. The best part about this is that it comes in up to 8 or 9 shades! Im using #2! See my review on the product HERE
AVAILABLE AT(Singapore): Major Departmental stores, Sephora Singapore
5.Helena Rubenstein Wanted Blush

WHY I LOVE IT: This was surely love at first sight! Im a HUGE fan of blushers that provide a subtle shimmer on the skin and this glow on blusher does that! Just the right amount of glow with a perfect wash of colour. See the swatch of the colour I got HERE
AVAILABLE AT(Singapore): DFS at Scotts Road
6.Chanel Stylo Yeux Waterproof Long-Lasting Eyeliner



WHY I LOVE IT: If you remember seeing my previous post on WATERPROOF EYEPENCILS, then you'd understand my love for any pencil that is waterproof and is richly black! The Chanel liner is just perfect. It may not be as TOTALLY smudgeproof as some other pencils but its waterproof and the rich blackness of it, won me over. See the swatch HERE
AVAILABLE AT(Singapore): Chanel Counters
7.Makeup Forever Aqua Cream Eyeshadow


WHY I LOVE IT: MakeupForever has done it again. Yet another brilliant product! Check out my review of this amazing product HERE, together with the swatches of ALL the shades!
When I swatched them, I was very much amazed at this product. Firstly, MUFE has always been known for its bright bold colours. So its no surprise that they came up with a line of TOTALLY SMUDGEPROOF, WATERPROOF cream eyeshadows. You can use them as an eyeshadow base or you can even use them on its OWN. Check out my youtube tutorial on how I used this product. The tub contains alot of product and worth every cent! Its a multi use product so you can use it on yout eyes, cheeks, and lips!
AVAILABLE AT(Singapore): MakeupForever Stamford House, Sephora Ion, Sephora Ngee Ann City, Sephora GreatWorldCity.
8. Diorshow Mascara VS Helena Rubenstein Lash Queen Mascara



WHY I LOVE IT: Its a tie! DiorShow has been my ULTIMATE favourite mascara for a couple of years now already and I LOVE how it amps up the volume on your lashes immediately. And the new HR Lash Queen Mascara I purchased recently has totally won me over when I applied it and saw such AMAZING difference in the LENGTH and  VOLUME of my lashes! I L.O.V.E  it!! I think BOTH of them are a must have!
AVAILABLE AT(Singapore): DIORSHOW is available at Sephora and all DIOR counters and HR is available at DFS Scotts
 9. Makeup Forever Eyebrow Corrector



WHY I LOVE IT: This is another brilliant product that Ive been using for a while now already! The MUFE Eyrbrow corrector is a creamy liquid that helps you fill in the brows(or draw on if you prefer) and the colour sets and its waterproof! Its totally sweat proof too! I recommend going for the darker tones if you're asian like me or if you have darker hair. I love this product!
AVAILABLE AT(Singapore): Sephora Singapore
10. Korres Lip Butter



 WHY I LOVE IT: Ive been using these Lip Butters from Korres for a while now already. But not for me, I use them on my clients. Everytime I do my clients makeup, I always moisten their lips first with this LipButter and let it soften their lips while I do the rest of the makeup. By the time I come to the lips, its soft and not as dry as they were before. And my clients all LOVE the yummy scent and always ask me where I buy this from!
AVAILABLE AT(Singapore): KORRES at ION Orchard and BHG Junction8
 To confirm any of the prices, do call the respective makeup counters/stores.
I get various questions asked each day with regards to makeup and skincare. One of the most commonly asked questions, are about concealers.
Id like to start off by saying, that not EVERYONE requires concealer. Most people have a habit of slapping on concealer and in the end, they end up looking too cakey or looking like what we call, WHITE PANDA! (when you see whiter rings under the eye!)
If you\'re someone like me, who has HORRIBLY dark circles(my dark circles are abt 10-15 times darker than my actual skintone), then concealers are a must have!
These are my top 7 favourite concealers that I use on myself and/or clients. These are all purchased by me, myself, no sponsorship whatsoever. PLEASE also understand that when a product works for someone, it may not always work well for everyone else too. For instance, the UrbanDecay Primer is a huge hit with SO MANY people and all over the world, everyone loves it! But for me.. it barely stays on.
So please dont ask me why this concealer doesnt work for you and how come it works for me. Everyones skin is different. These top 7 concealers are currently huge on MY list and until i find something better, I want to share with you, why I love these concealers, and hopefully end up helping some of you, who are looking for concealers.
Everyone is entitled to an opiniopn, and this is mine:
These concealerd are not listed in any specific order. Ive randomly numbered them

 PS: I am not the best person when it comes to remembering prices! But you can definitely check out the prices online 🙂
I hope these have helped! 🙂
♥
I often get emails from many of you, asking which brand has the best brushes, or my favourite brushes etc. Today\'s blog entry is dedicated to some of my HIGHLY RECOMMENDED BRUSHES!
When I first started off as a MakeupArtist, I never knew that one day, Id be such a brush-a-holic! No seriously! As much as I cant stop buying makeup, I cant stop buying brushes too! Especially when I know they are FANTASTIC brushes! Brushes are not just something I like to collect. But they are really important tools for any makeup user(not only makeup artists!).
Brushes are important because they are more hygenic than using your own fingers to apply a product. and many times, using the RIGHT brushes, mean getting a more precise application, a more flawless finish, and all the more easier to blend products with.
Here are my utmost favourite Brush brands:
When I received this full set of KENTBRUSHES for review purposes, 2 years back, I never knew, this would end up being one of my favourite brush sets! I firstly FELL IN LOVE with their red handles! They totally stood out amongst all my other black-handle brushes. They dont have a huge variety of brushes, but if you need a BASIC set, esp for travel, this is perfect! The brushes are travel-sized. Their powder brush and blusher and contour brushes are the ones I use the MOST! and without fail, each time I wash the brush, there are no shedding of bristles/hair. And its still SO SOFT after all the many washes.
KENT Brushes is only available online at THIS LINK
Initially when Sigma first got released, there was a much heated debate about it being a rip-off off MAC as they looked the same and even the brush numbers were similar. Eventually Sigma, changed their brush numbers! So I caved in and eventually ordered some of these Sigma brushes, after reading a crazy number of reviews about them. Being an avid MAC Brush user, myself, I could instantly see the resemblance between Sigma n MAC when my brushes arrived. But they\'re not of the same length. I ordered only EYE brushes because Im a huge fan of eyemakeup and I love having various eyeshadow brushes! I got the Small Tapered Blending – E45 , Tapered Blending – E35 , and Blending – E25. and for only USD9 each, I think they\'re worth every penny! The brushes are SO SOFT! and as mentioned before, with the right brushes, application of eyeshadow can be so much easier! I love blending colours using the E25 brush!
SIGMA Brushes is available online at SIGMABEAUTY
Very often, Sephora comes up with new brush collection. The platinum series, the I.T series, the double dipped series etc. I simply adore their brushes because, not only are they PRETTY!! but also their brushes are long lasting. I\'ll be honest, I buy them mostly cuz they add a splash of colour to my brush collection :p
But their CREASE brushes are definitely a must have, if you ask me!
SEPHORA Brushes are available online at SEPHORA and also at SEPHORA OrchardIon, Sephora NgeeAnnCity, Sephora MarinaBaySands and Sephora GreatWorldCity
MAC is one of the most internationally known professional brand that needs no introduction. MAC has some of the most amazing brushes! However, their prices, may not be so wallet-friendly to all. I personally find it a good investment for anyone who uses makeup regularly or makeup artist. Their blusher brush #116, is one of my favourite brushes. It feels very soft against the skin, and deposits the right amount of product, with each application. However, amongst all my face brushes, I find this brush, sheds more than others. Apart frm that, their Eyeshadow brushes are also a hit with me, especially the blending brushes(#217,#275, #226, #222)
MAC Brushes are available online at MACCOSMETICS and at the many MAC Counters islandwide.
I-Nuovi doesnt have a huge variety of brushes either but I cannot do without their CREASE brush! Its perfectly shaped to create a precise application when contouring the eyes. If there\'s one other thing I love about Inuovi, its their BRUSH CLEANSER! I use this brush cleanser on ALL my brushes, and it is brilliant! every speck of product is thoroughly removed and my brushes look like brand new, after every wash.
I-Nuovi Brushes are available online at INUOVI and at Inuovi FarEastPlaza and Inuovi BHG Bishan
Another MUST-HAVE brand of brushes, if you ask me! I was sent a couple of MUS brushes and they\'ve very quickly become a hit with me! Im a sucker for CREASE brushes (if you havent already figured out by now), and ther crease brush #7S-01 from MUS is one of my favs! I also love their face brushes! The travel sized blusher brush #H02, and their foundation brush #H03 which looks similar to the stippling brush, is so soft and great for applying cream products on the face!
MakeupShow Brushes are available online at MUS and also at Cathay Cinileisure
Ive been hoarding on loose pigment eyeshadows for a while now. I love anything SPARKLY(such a girl, i know!)and thus I always end up buying these loose pigments but cuz they can be quite a hassle to use, I never end up using em! Sometimes its just the hassle of carrying em around, that puts me off! But I finally decided to start making use of em, and I was glad when I found this nifty lil storage case. This was more intended for storage of lil beads, or rhinestones, or glitters etc but I figured it would be fab for my loose pigments and so much more easier to carry out when I go for my client appointments!
Of course each row only could hold 5 colours, so I chose 5 of my fav from each colour group! I didnt want to buy more of thisc ases cuz I figured I dont use them too often anyways. as much as i love the pigments,I still prefer pressed eyeshadows anyday.

You can easily find such storage at places such as DAISO, SPOTLIGHT, PALZ FarEast, PNC UppCross Street, MUJI, any other hobby store, should have em too
NOTE: I honestly didnt remember the names or brands of these pigments so I didnt label them. So dont ask me, cuz I really wouldnt know! 😀
First up… Leaving it under running water for a whole minute(60 seconds):
NO STREAKING after being placed under running water!

Next, I rub them all with a reasonable amount of pressure, after being under the water:

Some faded, some streaked, some remained the same!

Finally, I did even more rubbing to wipe them off, but it wasnt easy! And finally after alot of rubbing:

We have a winner!!!
The DIOR pencil liner stayed on without streaking and barely faded. "
the MUFE aqua eyes faded a little but stayed on stronger than the rest , some if which TOTALLY vanished!

CONCLUSION:
So just as I expected, DIOR and MUFE didnt proove me wrong 🙂
They withstood the running water and ALOT of rubbing. The other liners were good too as they passed the waterproof test, and some passed the first rubbing attempt. They faded off eventually after the last rubbing attempt.
DIOR & MUFE wins! 🙂
I first started using these MyRedHouse foundations earlier this year when I had received some SAMPLE SIZED ones and they were FLAWLESS when applied on an elderly client I had who had severe pigmentation issues.
I was blown away by its coverage, yet still looking natural.
So I decided to buy the FULL SIZED bottles of the various tones, plus one for MYSELF too!! 🙂
Here's a before and after pic when using the MyRedHouse LIQUID POWDER MINERAL FOUNDATION.
I applied the foundation, followed by AMAZING COSMETICS CONCEALER (for the under eyes only) and set it with powder.
I was impressed with how natural it looked, plus it managed to camouflage so many minor imperfections I had on my face.
I personally love this foundation for TWO main reasons!
(1) It covers imperfections, can be layered for a heavier coverage but still doesnt make you look too caked up!
(2) It comes in a wide variety of shades, especially a good array of darker shades, which most brands dont cater to.
You can purchase them ONLINE ONLY, at MyRedHouse's website, for SGD44.00
These are a couple of my FAVOURITE products of 2010.. products that I will be certainly stocking up on to continue using through out 2011
Click HERE for some of the product reviews
Thank you for being a part of FacesBySarah, through yet another wonderful year! 2010 has been an amazing year, and its all thanks to YOU!
Have a blessed 2011
♥
When you pack for a holiday, Im sure you worry about what makeup to bring to, right? Not everyone is a makeup person but if you\'re anything like me, you\'d wish you could bring EVERYTHING but of course that wouldnt be such a feasable idea. You basically need essentials that will stay on through out the day and that you can use be it casually shopping or a dinner at a fancy restaurant.
So what would "I" pack with me for my makeup, when travelling?? 
Here\'s my MUST-HAVE list:
(1) PRIMER (I recommend: MakeupForever AllMat Primer )
WHY: Lets face it, when you\'re on a vacation, you\'ll be out most of the day, be it shopping or sight seeing. Who has time to constantly be worried about touching up your makeup?? Using a primer will not only ensure you skin stays oil-free but also helps your makeup stay put through out the day.  
(2) Tinted Moisturizer and/or concealer (I recommend Elizabeth Arden\'s Tinted Moisturizer and Amazing Cosmetics Concealer)
WHY: For me, holidaying abroad means one thing.. SHOPPING! So Id be out the whole day going from mall to mall, or street market to street market. So I hate the idea of caking up my face with foundation. A light weight tinted moisturizer will do the job! Just enough coverage and also provides you with an SPF. If you have dark circles that need covering, then of course you need your concealer! I love using Amazing Concealer cuz it flawlessly conceals my dark circles. 
(3) Compact Powder/Loose Powder (I recommend: Elizabeth Arden Pure Finish Mineral Powder Foundation)
WHY: To give you just the right amount of coverage without looking over the top. and with this particular powder, I NEVER once needed to touch up my face after hours of basking in the sun whilst shopping! 
(4) Eyeliner (I recommend: MAC Penultimate eyeliner and DIOR waterproof crayon eyeliner)
WHY: A good smudgeproof, waterproof eyeliner is a TOTAL must! The two liners mentioned above are waterproof and smudgeproof, so you dont need to worry about any black smudges during super hot days, or even whilst you\'re in the water at the beach!  
(5) Eyeshadows are OUT! Waterproof eyeshadows are IN! (I recommend: MakeupForever Aqua Cream Eyeshadows)
WHY: these are like the PERFECT travelling makeup because they are waterproof, smudeproof and can be used on your eyes, lips, cheeks. I personally bring along the WHITE to accentuate my browbone. Lightly apply it cuz you just want a slight highlight. and a the brownish bronze tone that will look great on just about any skintone! 
(6) Mascara, optional for some but I find a look incomplete without mascara! (I recommend: DIOR Diorshow mascara)
WHY: A waterproof mascara is just as important as a waterproof eyeliner. So you will remain looking clean and fresh even after enjoying yourselves at the beach 
(7) Blusher (According to your own skintone)
WHY: Why do you need a blusher? Why not! A blusher helps to brighten up your face and if you get one thats got subtle shimmers in it, you may even get that lovely sunkissed glow. Having a bronzer with you could even double up as a subtle brownish eyeshadow! 
(8) Lipliner/Lipstick (I recommend: ElizabethArden lip pencils, MAC Lipstick)
WHY: Lip liners are brilliant. Think of them as a base for your lipstick, as you would apply eyeshadow bases before applying an eyeshadow. Lipliners will ensure that when your lipstick/gloss has been "eaten", that your lips still have a nice shade. Line your lips and then fill them in with the lipliner. then apply your lipstick over. Gloss is something that fades away very quick. So unless you like the barely-there-gloss effect, i suggest using a good lipliner and lipstick. Id stick to neutral tones  
Happy travelling! ♥
I've been battling dark(and I mean REALLY DARK!) circles and fine lines/wrinkles for the longest time ever! I have used countless number of creams, that even after 2 months of use, I dotn see the slightest change. I figured dark circles wasnt as big a priority as wrinkles were cuz I can easily conceal dark circles. If you see any of my photos, you wouldnt think I have dark super dark circles hidden under those layers of makeup! But I do! And Im glad I conceal them very well but lets face it, wrinkles or fine lines, is something makeup will NEVER conceal! Infact applying makeup only further accentuates those finelines!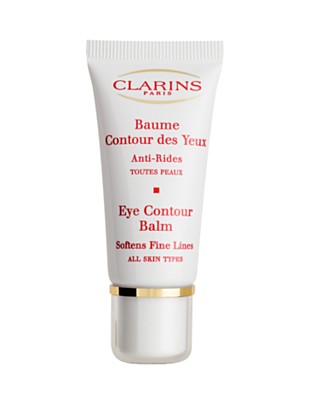 So I was out shopping with my bestfriend in ROBINSONS CentrePoint when I went to a few beauty counters to enquire about what product would work best for my finelines when my bestfriend grabbed me and pulled me over to the CLARINS Counter and picked out the CLARINS EYE CONTOUR BALM and told me how she sweared by it, saying it does a brilliant job! I figured Id try it since she's my bestfriend and obviously has some experience with the cream! 🙂
RESULTS?? Three weeks later and I assure you, I see atleast a 50-60% difference! Previously, when I smiled, the lines would show VERY obviously but now its not as obvious. Im not saying my fine lines diminished completely! They have reduced in appearance! and though the tube finishes really fast, I dont mind forking out another $70+ to buy another tube cuz I know for a fact that I DO see results!
And the best part about this is that you can apply makeup ontop of it! For people like me, eye creams may be a tedious task as I need to apply makeup(concealer) and most eyecreams dont go so well with applying makeup after application of eyecreams. But for this CLARINS EYE CONTOUR BALM, you can apply your makeup immediately after! I also see a slight reduction in my dark circles too! I still have pretty bad dark circles but they seem to have lightened a bit!
WHAT IT DOES: From the first signs of aging this balm repairs the delicate skin of the eye contour. They smooth the eyelids by restoring their elasticity and minimize wrinkles, fine lines and crow's feet.
WILL I BUY IT AGAIN: Im heading out today to buy myself another tube!
WHERE TO BUY: Major departmental stores