Last night ChengSan CC @ Ang Mo Kio was having their Diwali Night and they had stuff like a pageant, singing, dancing, games, food etc..
So why was "I" involved?
So of course knowing i would never charge her, she asked me to do her makeup! LOL
i was more than flattered =]
So she picked me up frm my place at 6-ish and we headed to the CC where she changed into her first outfit for the dance and then she went for practise, came back n i did her makeup.
Once the show began, it was full swing. Her dance was super! and then i rushed back to the changing room to help her change into her saree for the pageant and did her makeup and she was all set.. she looked stunning!! =] esp with her new hair.. i LOVE!! =]
After few more games, dinner, and another dance, they finally announced the results for the Pageant..
I was at the edge of my seat when they were announcing and guess what..
SHE CAME IN 2ND PLACE!!!
super happy for her! =] first place was the gorgeous Serene with an ever ready smile. Well done babe =]
=]
Dance item!
another dance item before the results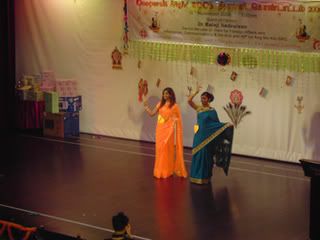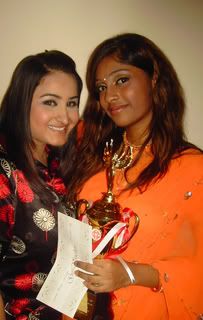 =] so happy for her!